Russell Crowe and David Stratton. (Photo: Mark Rogers)
Two Australian productions, Stranger Than Fiction Film's David Stratton's Stories of Australian Cinema and Endemol Shine Australia's MasterChef Australia, are in contention for the 2018 International Emmy Awards.
Three-part series David Stratton's Stories of Australian Cinema, produced for the ABC, is nominated for the Arts Programming Award. It will compete against Canada's Dreaming of A Jewish Christmas (Riddle Films), Dutch production Etgar Keret, gebaseerd op een waar verhaal (Etgar Keret, based on a true story) (Baldr Film/NTR Television) and Brazil's Palavras Em Série (Words in Series) (GNT/Hungry Man).
Stories of Australian Cinema, directed by Sally Aitken and produced by Jen Peedom and Jo-anne McGowan, sees the film critic and former co-host of ABC's At The Movies and SBS's The Movie Show reflect on Australian films, including interviews from the likes of Nicole Kidman, Judy Davis, Russell Crowe and Jacki Weaver, Gillian Armstrong, George Miller, Fred Schepisi, Bruce Beresford, David Michod, Rachel Perkins and Warwick Thornton.
It aired on the ABC in 2017, while a feature cut, A Cinematic Life – which had more of a focus on Stratton himself – was released theatrically the same year via Transmission Films.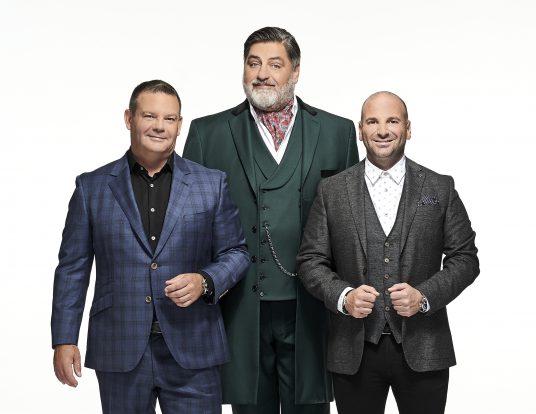 Of the nomination, Stratton said: "I'm thrilled that Stories of Australian Cinema has received this most prestigious nomination. Congratulations to Sally Aitken, the director, Jo-anne McGowan and Jennifer Peedom, the producers, and to the ABC for supporting this series, which was more than anything else a tribute to the richness, talent and variety of Australian films and filmmakers."
MasterChef Australia is up for the Non-Scripted Entertainment Award, competing against Belgium's Hoe Zal Ik Het Zeggen? (Did you get the Message?) (Shelter), Thailand's The Mask Singer and Top Chef México (Sony Pictures Television de Mexico/Cinemateli).
A continual ratings hit for Network Ten, MasterChef Australia aired its tenth season this year, and has already been renewed for 2019.
Overall, there are 44 nominees across 11 categories and 20 countries for this year's awards, with the winners to be announced on November 19 at the Hilton New York Hotel.
"Look at the diversity and geographic spread of this year's nominations across all continents and platforms," said Bruce L. Paisner, President and CEO of the International Academy of Television Arts and Sciences.
"It is clear that excellence in television is a global phenomenon which transcends culture and language."
The full list of nominees:
Arts Programming
David Stratton's Stories of Australian Cinema
Stranger Than Fiction Films
Australia
Dreaming of a Jewish Christmas
Riddle Films
Canada
Etgar Keret, gebaseerd op een waar verhaal
(Etgar Keret, based on a true story)
Baldr Film / NTR Television
Netherlands
Palavras Em Série
(Words in Series)
GNT / Hungry Man
Brazil
Best Performance by an Actor
Julio Andrade in Um Contra Todos – Season 2
(One Against All)
Conspiração Filmes / FOX Networks Group LATAM
Brazil
Billy Campbell in Cardinal
Sienna Films / Entertainment One
Canada
Lars Mikkelsen in Herrens Veje (Ride Upon the Storm)
DR Drama / ARTE France / SAM le Français / DR Drama / ARTE France
Denmark
Tolga Saritas in Soz
Tims&B Productions
Turkey
Best Performance by an Actress
Thuso Mbedu in Is'thunzi – Season 2
Rapid Blue
South Africa
Anna Schudt in Ein Schnupfen hätte auch gereicht
Zeitsprung Pictures / RTL Television
Germany
Emily Watson in Apple Tree Yard
Kudos
United Kingdom
Denise Weinberg in Psi – Season 3
HBO Latin America / O2 Filmes
Brazil
Comedy
Club de Cuervos
Alazraki Films / Netflix
Mexico
El Fin de la Comedia – Season 2
(The End of Comedy)
Comedy Central España
Spain
Nevsu
Endemol Shine Israel / 'Gesher' Fund / Avi Chai Fund
Israel
Workin' Moms
Wolf + Rabbit Entertainment
Canada
Documentary
De Wereld van Puck
(Puck's World)
KURTA / EO Television
Netherlands
Eu Sou Assim
(This is Me)
GNT / TV Zero
Brazil
Goodbye Aleppo
BBC Arabic
United Kingdom
IPC & WOWOW Paralympic Documentary Series WHO I AM Season2
WOWOW / Acrobat Film
Japan
Drama Series
Inside Edge
Amazon Studios
India
La Casa de Papel
(Money Heist)
Vancouver Media / Atresmedia Televisión
Spain
Um Contra Todos – Season 2
(One Against All)
Conspiração Filmes / FOX Networks Group LATAM
Brazil
Urban Myths
Happy Tramp Productions / Sky plc
United Kingdom
Non-English U.S. Primetime Program
El Señor de los Cielos – Season 5
Telemundo Studios / Argos Televisión
United States of America
El Vato Season 2
Universo / Endemol Shine Boomdog
United States of America
Jenni Rivera, Mariposa de Barrio
Telemundo Studios
United States of America
Sin Senos Sí Hay Paraíso – Season 2
Telemundo Studios / FoxTelecolombia
United States of America
Non-Scripted Entertainment
Hoe Zal Ik Het Zeggen?
(Did you get the Message?)
Shelter
Belgium
Masterchef Australia
Endemol Shine Australia
Australia
The Mask Singer
Thai Broadcasting Company Limited
Thailand
Top Chef México
Sony Pictures Television de Mexico / Cinemateli
Mexico
Short-Form Series
How to Buy a Baby
LoCo Motion Pictures
Canada
L'âge adulte
(Adulthood)
Productions Pixcom
Canada
Shin gamdok eul sulgiroun sa seang hwal
(Sensible Life of Director Shin)
Seventytwo Seconds
South Korea
Una Historia Necesaria
(The Suspended Mourning)
Tridi Films / CNTV / Escuela de Cine de Chile
Chile
Telenovela
Cesur ve Guzel
(Brave and Beautiful)
Ay Yapim
Turkey
Istanbullu Gelin
O3 Medya / Global Agency
Turkey
Ouro Verde
(The Payback)
Plural Entertainment Portugal
Portugal
Paquita La Del Barrio
Sony Pictures Television (SPT) / Grupo Imagen / Teleset
Mexico
TV Movie/Mini-Series
Aldo – Mais Forte Que O Mundo
(Aldo)
Globo Filmes / Globo / Black Maria / Paris Entretenimento
Brazil
Kurara: The Dazzling Life of Hokusai's Daughter
NHK Enterprises / NHK
Japan
Man in an Orange Shirt
Kudos
United Kingdom
Toter Winkel
(Blind Spot)
Geissendoerfer Film & Fernsehproduktion / WDR
Germany