Leticia Caceres. 
Director Leticia Caceres has been announced as the second artist-in-residence at Start VR, following on from Cleverman creator Ryan Griffen, who continues to develop projects with the company.
A former associate director at the Melbourne Theatre Company (MTC), Caceres will develop one of her high profile theatre projects with Start VR.
"The project is part musical-confession, part exploration of theoretical physics, a meditation on art, mortality and transcendence, and the opportunity to shape this experience in a virtual space has me very excited," said Caceres.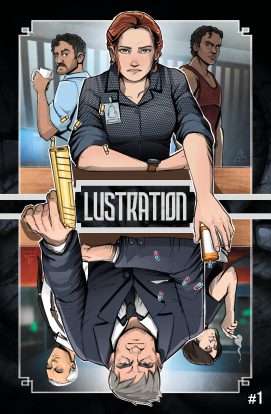 "Having worked with incredibly talented creatives across stage and screen, I'm now very excited by the prospect of creating a spatially complex performance space that is fragile and elusive, reminiscent of a half-remembered, and in a half-imagined dreamscape of an existential crisis."
Start VR's Artist Residency Program was conceived by principals Nathan Anderson and Martin Taylor in 2018 as a way to give traditional storytellers an opportunity to create new works in the evolving medium of virtual and augmented reality. The program received support from Screen Australia's Enterprise Ideas program, and Griffen was the first to undertake a residency.
Griffen and Start VR are collaborating on Lustration VR, having recently received development funding from Screenwest. The project is based on Griffen's high concept property Lustration, which which is also in development as a TV series, and will be published as a comic series by Gestalt Comics later this year.
Set across different planes of existence, Lustration tells the story of two protectors of a realm where the dead go in order to cleanse themselves before crossing over. The virtual reality experience will be immersive, interactive and tell multiple stories inside a story loop, allowing audiences to experience the story at the same time, and to choose which stories to follow and engage with.
Early this year Start VR teamed up with Perth-based publisher and Gestalt editor-in-chief Wolfgang Bylsma to develop artwork for the project. Gestalt published the Cleverman comic series and began releasing the Lustration.
"Ryan's sense of world-building is superb, and in Lustration he has multiple worlds to play with, all tied into intimate storytelling that has family at its emotional core. It presents tremendous narrative and interactive opportunities for the VR experience, and we're delighted to be partnering with Start VR on this project," Bylsma said.
"Artist James Brouwer, perhaps best known as co-creator of The Deep graphic novels and animated TV series, is bringing his unique visual approach to the project, rendering Ryan's vision into absolutely stunning examples of sequential art."
Start VR COO Nathan Anderson said: "Start VR is thrilled that our Australian VR Residency Program has attracted such a dynamic and diverse range of creative projects and collaborations. As a unique and amazing medium for telling stories, the residency will provide audiences with new and powerful immersive film experiences. We look forward to working with Ryan and the Gestalt team, and now Leticia, on what I am sure will be incredible, ground breaking projects." says Start VR, COO, Nathan Anderson.