'Buoyancy' cinematographer Michael Latham (Photo credit Rafael Winer © Causeway Films)
Four or five years ago writer-director Rodd Rathjen read a story in an environmental journal about forced labour and exploitation of children in Thailand's fishing industry.
He was so shocked by the revelations of trauma and hardship he decided he wanted to make a feature film which tells the stories of "people whose voices are not being heard."
The result is Buoyancy, his feature film debut which will have its world premiere in the Panorama section of the Berlin International Film Festival.
Produced by Causeway Films' Sam Jennings, Kristina Ceyton and Rita Walsh in association with Cambodia's Anupheap Productions and Melbourne-based Definition Films, the drama centres on 14-year-old Chakra, who is forced to work on a fishing trawler. He soon realises his only hope of freedom is to become as violent as his captors.
Veteran Thai casting director Non Jungmeier found Sarm Heng, who plays Chakra, through the Green Gecko Project, which supports former street children and their families in Siem Reap, Cambodia, through education, health and training.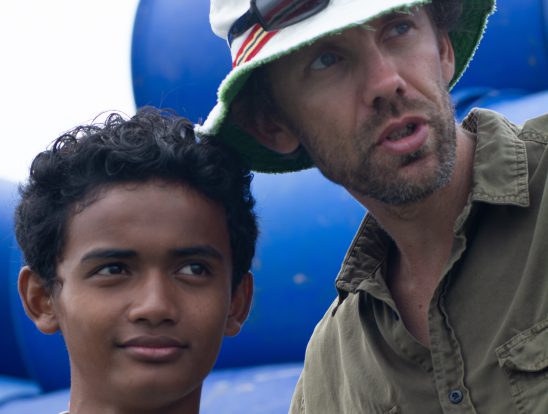 "As soon as I saw Sarm I knew we had found our Chakra, he was amazing, so natural and very intuitive," Rathjen tells IF.
Mony Ros, who had appeared in Amiel Courtin-Wilson and Michael Cody's Cambodian-set feature Ruin, plays Kea, a father with a young family who forms a bond with Chakra after meeting him on the voyage to Thailand.
Experienced actor/director Thanawut Kasro plays Rom Ran, the captain of the trawler.
The writer-director knew Jennings and Ceyton and sent them the first draft several years ago. "They were shocked but they loved the narrative," he recalls.
He spent another two years developing the screenplay and did extensive research in Cambodia and Thailand. The producers raised the finance from Screen Australia, Feracious Entertainment, the MIFF Premiere Fund, Film Victoria and Definition Films. The film was shot on an island off the coast of Cambodia from April-May last year, in Thai and Khmer with English sub-titles.
Umbrella Entertainment will distribute in Australia and New Zealand after the MIFF premiere, with international sales handled by Charades and Echo Studio.
It's been a long wait for Rathjen, who graduated from the Victorian College of the Arts (School of Film & Television) in 2010 with a Bachelor of Film & Television.
His graduating short film, Thirst, which focussed on alcohol abuse in the bush, won the college's best directing prize.
In a career breakthrough, his 2013 short Tau Seru, which follows a young nomad's travels in the vastness of the Himalayas, premiered at Critics Week at the Cannes Film Festival and was named best Australian short at the Melbourne International Film Festival.
In 2014 he took part in the Berlinale Talent Campus as a director – never imagining he would return to Berlin years later with his feature in Panorama.