Geraldine Hakewill as Ms Fisher. (Photo: Ben King). 
After proclaiming yesterday it had won the 2018 ratings for the 12th consecutive year, the Seven Network today unveiled an ambitious line-up for 2019 including four new local dramas and a slew of fresh reality shows.
At its AllFronts the broadcaster revealed the cast of Ms Fisher's Modern Murder Mysteries, the spin-off of the popular ABC series from Every Cloud Productions' Fiona Eagger and Deb Cox. Set in 1960s Melbourne, the show stars Wanted's Geraldine Hakewill as Peregrine Fisher, who inherits a windfall when the famous aunt she never knew, Phryne Fisher, goes missing over the highlands of New Guinea.
Joel Jackson is Detective James Steed, a smart, ambitious cop who is instantly attracted to Peregrine and drawn into her mad plans. Catherine McClements is Birdie, an ex-member of WW2 Special Forces who is the president and mastermind of The Adventuresses' club.
Seven screened a promo clip showing Hakewill's character swinging on a chandelier and boasting that she "outsmarts and outsleuths the most cunning killers." The network's head of drama Julie McGauran described the show as "sexy and cheeky." The four telemovies were produced by Beth Frey, directed by Fiona Banks and scripted by Cox, Samantha Winston, Chelsea Cassio and Jo Martino.
From Australia's most prolific creator/writer Bevan Lee (Packed to the Rafters, A Place To Call Home, All Saints, Winners & Losers, Always Greener) comes contemporary drama Between Two Worlds. Produced by Seven Studios, the series looks at two people from disparate and disconnected worlds- a vicious, philandering business tycoon and a widow- who are thrown together by death and a sacrifice in one world and the chance for new life in the other. A promo described the show as Fatal Attraction meets Bridesmaids.
High-stakes thriller Secret Bridesmaids' Business is adapted from the Elizabeth Coleman play about three friends whose lives are forever changed when one unwittingly invites a malevolent stranger into their world. A promo referred to a groom whose secret is revealed, a flower girl who goes missing and a bride with blood on her hands. MaryAnne Carroll will produce for Seven Studios and Coleman is among the writers.
The other new drama is Roadshow Rough Diamond's Australian Gangster, described as a two-part, punchy, funny and violent adrenaline-ride through Sydney's gorgeous but inane world of crime, from writer-director Gregor Jordan. The show was announced last year and is in the can but the telecast has been delayed by legal reasons. A clip revealed the drama is inspired by true events and centres on a criminal who is a fighter and a family man with a mistress. Steve Bastoni plays a supporting character. McGauran said: "It's dangerous and it never lets up."
In the true crime genre, CJZ will produce Undercurrent, an unfolding investigation into the case of Sue Neill-Fraser, who was jailed for murder after the death of her partner in Hobart in 2009. She strongly maintains her innocence and a band of supporters who refuse to accept she is a killer began their own investigation.
Commenting on the new slate, Seven's director of network programming Angus Ross said: "After a close win last year, we promised to up our game in 2018 and the team has delivered in spades. We've broken records and dominated the ratings throughout the year. In fact, in every month we have never dropped below a 39 per cent share while our competitors have never been above 39 per cent. Our worst is still better than their best."
The network confirmed The Single Wives, Back to the Ex and The Mentor aren't being renewed and there is no decision yet on the future of Dance Boss or Little Big Shots.
The 2019 slate also includes:
THE SUPER SWITCH
Based on a US format, the spin-off of Seven Year Switch will see six couples put their relationships to the ultimate test as they say goodbye to their loved ones to live in an experimental relationship with a total stranger. They will be paired with a like-minded person who will hold up a mirror to their own behaviour and help them answer the question – is the grass greener on the other side? The couples are split into two mansions, transforming the experiment into a shared experience. Ross said the Seven Studios production will be "very noisy" and will screen at 7.30.
WIFE SWAP
Two women from two very different families swap their homes and lives for two weeks. In this reboot the drama is intensified with visits from the mothers-in-law. Produced by Screentime.
THE PROPOSAL
From the creator of The Bachelor comes a new dating show in which 10 people compete in four rounds to win the heart of a mystery suitor or suitress whose identity is concealed from them. When the winner finally gets to meet him or her, it comes with a romantic proposal. Warner Bros International Television Australia.
EXTREME WEDDINGS
This show follows extreme weddings from the planning stages through to the big day. Seven Studios.
INSIDE 'THE G'
The observational documentary takes viewers behind the scenes of the MCG, telling the stories of the projects, personalities and passions that bring the stadium to life. CJZ.
ISLANDS OF AMERICA
Martin Clunes embarks on an epic journey around the coast of America to discover what life is like on the surrounding islands in this new documentary series.
GORDON, GINO AND FRED: ROAD TRIP
Fiery chefs Gordon Ramsay, Gino D'Acampo and Fred Sirieix pack up their camper van and hit the road on a tour of their cherished homelands, where each has a special feast to prepare for.
RETURNING SERIES
The returning series include Home and Away, Sunday Night, The Front Bar, Better Homes and Gardens and The Good Doctor, Australia's number one drama. There will also be new episodes of Border Security, Highway Patrol, Motorbike Cops and Surveillance Oz.
Also returning: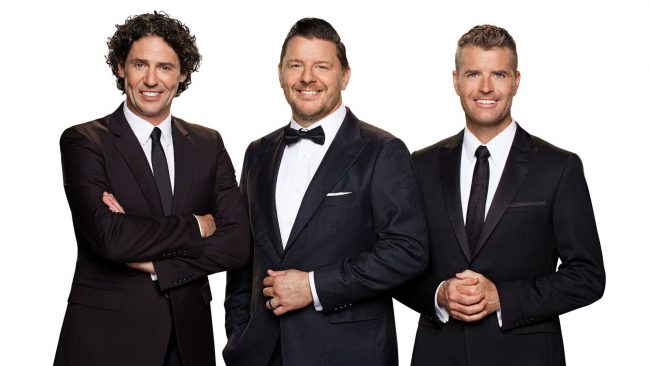 'My Kitchen Rules.'
MY KITCHEN RULES
The 10th anniversary season will test teams like never before with new challenges, locations, faces and rewards. In a series first, can perfect strangers team up to win MKR? Judges Manu Feildel and Pete Evans are joined by Colin Fassnidge as home cooks from around Australia compete for $250,000. Seven Studios.
HOUSE RULES
Jamie Durie joins judges Laurence Llewelyn-Bowen and Wendy Moore and host Johanna Griggs for the new season which as always anchors Q2. Seven Studios.
INTERVIEW WITH ANDREW DENTON
Andrew Denton returned to Seven this year in a series of surprising and inspiring conversations. Legacy Media.
INSTANT HOTEL
More fun-filled adventures are promised in the quest across the country to find Australia's best instant hotel. Seven Studios.
FIRST DATES
More single guys and gals are hoping to meet their dream partner on a blind date. Some will sizzle, some will crash and burn. At the end of the night they must decide: Will they go on a second date? Warner Bros. International Television Australia.
AUSTRALIAN SPARTAN
Season 2 welcomes Australia and New Zealand's fittest, fastest teams of athletes as teams of three battle the course in a race for one of 10 places in the grand final where one team will be crowned champions and win $150,000. Eureka Productions/Matchbox Pictures.
ZUMBO'S JUST DESSERTS
Seven has teamed up with Netflix to bring back the dessert-makers competition hosted by Australia's Adriano Zumbo and Britain's Rachel Khoo.
Among returning international series are 9-1-1, Criminal Minds, Modern Family, The Resident and Grey's Anatomy.