Brian Walsh.
For Brian Walsh, 2020 shapes as the most competitive year for the broadcast and streaming sector since the inception of television in Australia in 1956.
There will be casualties among the new entrants but ultimately the viewers will be the winners, predicts Walsh, Foxtel's executive director of TV, one of the few who were there when the pay TV company launched in 1995.
"The landscape will be the most competitive since the start of television as we see the new players consolidate their positions for consumers in Australia," he says. "Like all competition, it will bring out the best in everyone. When you have robust competition the winner will be the customer."
While he expects Disney+ to draw a sizable audience here, particularly among young families, he predicts: "There won't be an endless array of OTT services that will have the same success as Netflix, Disney and Amazon. There will be consumer burnout in the end."
Naturally Walsh believes Foxtel is well positioned to retain its audiences with initiatives such as 4K, the entertainment channels refresh and the new user interface while gaining new viewers for low-cost streaming service Kayo Sports and the entertainment equivalent (code-named Project Ares internally) which is due to enter the market in the second quarter.
Walsh is confident the entertainment streaming service will appeal to non-Foxtel viewers who are keen to see many of the platform's HBO, FX and BBC shows plus Foxtel originals.
After lengthy negotiations Foxtel was happy to add Netflix to the platform, reasoning many of its subscribers are Netflix customers so it made sense to offer a seamless transition bewtween the two providers. Similarly, the inclusion of ABC iview and SBS On Demand on the set-top box is part of what Walsh refers to as Foxtel's transformation from a "walled garden" five years ago to an aggregator of choice.
Tim Minchin in Upright (Photo credit: Matt Nettheim).
Among Foxtel's 2019 dramas, Walsh is delighted with the acclaim for Upright, Lingo Pictures' dramedy created by The Chaser's Chris Taylor, starring Tim Minchin and Milly Alcock.
Walsh is keen to collaborate again with Minchin and hopes that he, Taylor and other creatives can come up with a new vehicle for the two lead characters.
On the outlook for Foxtel original dramas, he says: "We have a really bold development slate and we are in active discussions with a number of producers. It will be very robust. (CEO) Patrick Delany wants shows that will move the needle, attract subscribers and be noisy."
The company has has been searching for a replacement for A Place to Call Home, catering for a similar, older-skewing audience, ever since the Seven Studios-produced drama created by Bevan Lee ended its run.
Walsh is evaluating a pitch for a new drama from Lee and Seven Studios' Therese Hegarty and is in talks with several other producers.
Confirmation that Foxtel and News Corp. will proceed with Lawyer X: The Story of Informer 3838, an eight-part drama based on the notorious story of Nicola Gobbo, the Melbourne-based criminal barrister who was a Victorian police informant from 1995 until 2009 during Melbourne's gangland wars, is expected soon.
He rates The End, the 10-part drama created by Samantha Strauss for See-Saw Films, as Foxtel's boldest-ever drama commission. Foxtel is funding the development of a second season.
He hails the series directed by Jessica M Thompson and Jonathan Brough, which stars Frances O'Connor as Dr Kate Brennan, a senior registrar specialising in palliative care and Harriet Walter as her mother Edie, as the first in Australia to tackle the issue of dying with dignity and the right to choose how to end one's life.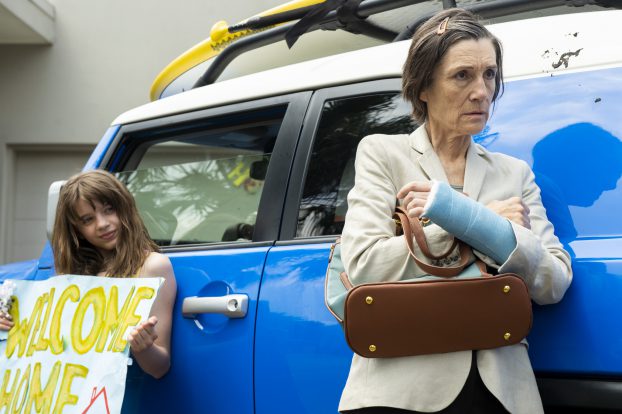 Ingrid Torelli as Persephone and Harriet Walter as Edie in 'The End' (Photo credit: Foxtel).
"A few years ago I started collecting newspaper and magazine articles about dementia and Alzheimer's and loved ones who were losing their long-married partners and always felt it was a subject that should be dealt with in a meaningful and sensitive way on television," he says.
"It was just a matter of finding the right voice and the right idea. Sam Strauss wrote The End based on her personal experience and it really comes through on the pages of the beautiful scripts she wrote.
"It will be very controversial and have people talking, and that's a good thing. It makes for really important television delivered in a way which will stir people's emotions."
At last year's Screen Forever Fremantle CEO Chris Oliver-Taylor observed during a panel session devoted to local drama that the commercial free-to-air networks and Foxtel are putting enormous pressure on budgets by paying licence fees of $440,000 an hour.
That forces producers to rely even more heavily on international partners and means there is a risk the international player could exert more creative control than the Oz broadcaster, he said.
Walsh, who was on that panel, disagrees, noting Foxtel has long been prepared to pay higher license fees for dramas if the idea is right. For instance, the platform paid more than $1 million an episode for A Place to Call Home.
Similarly, Foxtel has increased the budget for the concluding two series of Wentworth to ensure the Fremantle-produced drama "raises the bar" and looks and feels different with new cast members.
"First and foremost we want dramas that will attract customers to Foxtel and keep customers," he says. "If that is a uniquely Australian story, as it was when we commissioned Wentworth, if overseas sales follow that is icing on the cake.
That said, Foxtel partnered with the UK's Sky on both Upright and The End and is in discussions on various projects with Sky, HBO, Netflix and other international players, observing: "They are all interested in telling great stories and they know there is a lot of talent down here."
The company sold Matchbox's Secret City: Under the Eagle to Netflix and is teaming with the streaming giant on a food format yet to be revealed for 2020.
On the factual front Walsh is keen to find true crime projects for the History channel and Crime + Investigation after the success last year of The Good Cop and Debie Marshall Investigates Frozen Lies.
Check back tomorrow for the 2020 outlook from the ABC's Michael Carrington.