Aaron Pedersen and Jada Alberts in 'Mystery Road 2' (Photo: David Dare Parker).
Swedish actress Sofia Helin, who starred in all four seasons of The Bridge, is co-starring with Aaron Pedersen in the second series of Bunya Productions' ABC crime drama Mystery Road.
Helin, who played Saga Norén, a homicide detective from Malmö, in the Swedish/Danish film noir crime series which screened here on SBS, is cast as archaeologist Professor Sondra Elmquist.
The professor is conducting a dig near a remote coastal town when she encounters Pedersen's Detective Jay Swan, who has moved to the town to be closer to his family and is investigating a grisly case.
Warwick Thornton and Wayne Blair are sharing the directing duties on the six episodes produced by David Jowsey and Greer Simpkin, with Thornton as the DOP.
Two weeks into the 10 weeks shoot in Broome and the Dampier Peninsular, the series is script produced by Blake Ayshford and written by Steven McGregor, Ayshford, Kodie Bedford, Timothy Lee and Danielle MacLean.
The ensemble cast includes Jada Alberts, Callan Mulvey, Rob Collins, Ngaire Pigram, Mark Mitchinson, Ursula Yovich, Rhimi Johnson, Gary Sweet, Fletcher Humphrys, Joel Jackson, John Brumpton and Eve Morey, plus recurring roles for Tasma Walton and Tasia Zalar.
Anousha Zarkesh is the Australian casting director and Vicky Wildman facilitated the casting of Helin.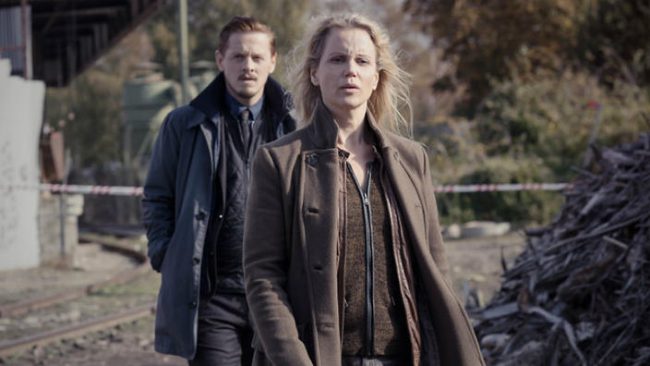 Sofia Helin in 'The Bridge.'
Explaining the casting of Helin, Simpkin tells IF: "I loved The Bridge and it made sense to have a European archaeologist. Sofia really responded to the scripts. We have a great cast and a great crew. It's a dream to be working with Wayne and Warwick."
The series was sold widely by All3Media International, including to BBC2 in the UK, Arte in France/Germany and Acorn TV in North America. Among the accolades, it won the AACTA Award for most outstanding TV drama, an Equity Ensemble Award and the AWGIE for the Michaeley O'Brien scripted episode Gone.
The second series is funded by Screen Australia's Indigenous department, Screenwest, the Western Australian Regional Film Fund supported by Royalties for Regions and Create NSW.
Screen Australia's head of Indigenous Penny Smallacombe said: "Rachel Perkins' extraordinary work in season one and with Wayne Blair and Warwick Thornton joining for season two, Mystery Road is the definition of powerhouse Indigenous-led TV drama."
ABC head of scripted content Sally Riley said: "Australians have gravitated to this unique home-grown story and we know that series two, with its exceptional cast and crew, will be no different."
Screenwest's head of strategic projects and screen investment Matthew Horrocks added: "The first season set a benchmark for quality Australian television drama and showcased the Kimberley region to the world. The producers also set the standard in terms of community engagement, not least with the superb Indigenous storylines, cast and crew."